We are Speck, a design and development agency building successful digital products used by thousands of people, daily. In the company of 40+ talented tech professionals and passionate digital natives, we are brewing solutions for global clients and our internal startups. We work remotely from Croatia but create ripples - worldwide.
We are currently hiring a React Native Developer with 3+ years of experience that will join our team and work on the hello again platform, a loyalty solution that supports companies to attract and retain customers by creating an easy-to-use digital loyalty program.
About the project you'll be working on
The client you are going to be working with is hello again, a platform that enables companies to design their individual customer loyalty program and to establish personal communication with their customers.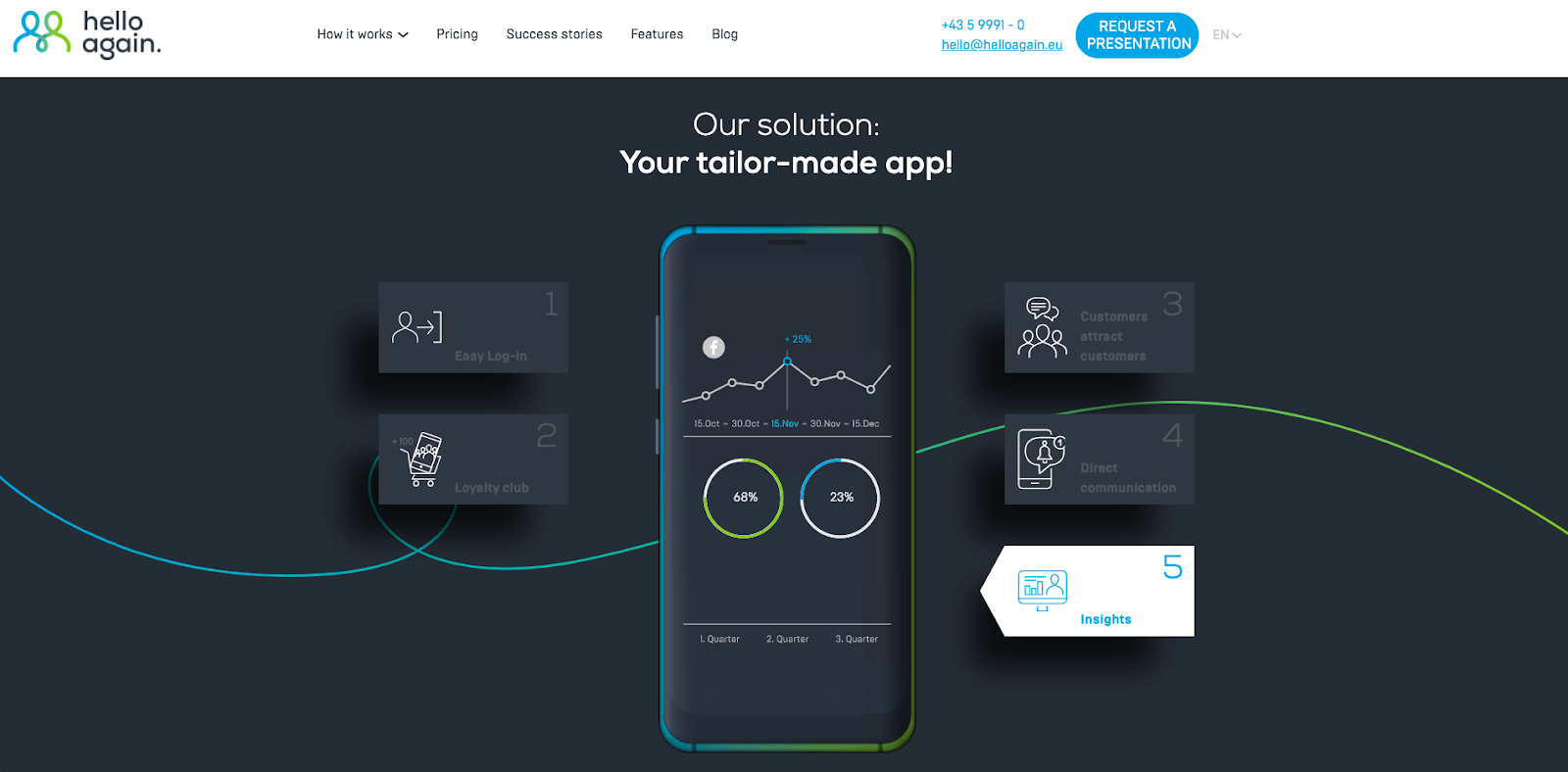 Hello again supports companies to attract and retain customers by creating an easy-to-use loyalty program. Currently, they are building a team in Croatia (inside Speck).
The mission of hello again is to support companies to attract and retain customers by creating an easy-to-use loyalty program. With the white label loyalty app (including a CRM) companies gain new and loyal customers. Hello again platform is already used by over 350 customers from 25 countries and their main goal is to become the leading digital loyalty provider throughout Europe.
Hello again platform is used by over 350 customers from 25 countries. It offers features like Easy Registration, Loyalty Club, Customers attract customers, Direct communication, Insights and CRM.
Other products we are currently working on in Speck
Peterson's - A leading provider of live, print, and online products and services, including test preparation (GMT, SAT, TOEFL), career exploration tools, and scholarship searches.
Autoskola.hr - A product that we have developed independently enables candidates to prepare better for exams in traffic regulations as part of training for driving schools and allows driving schools to easily track the progress of candidates.
KidzToPros - EdTech startup from California (San Francisco) that scaled from providing extracurricular activities in one school to over 250 schools and tens of thousands of satisfied children and parents, in less than two years. We help KidzToPros to define product strategy, design the web and mobile interfaces, market their services, and measure the impact of their efforts.
Minka - Minka is an open banking platform allowing fintechs and traditional financial institutions to create new financial products. By using Google App Engine, we helped Minka deploy an open banking platform using REST API and Google Datastore, used by millions in Latin America.
What can you expect from us?
1. Highly competitive salary
We offer you a competitive compensation package along with regular evaluations of your skills and knowledge to enable further growth of your salary, along with the additional benefits.
2. Modern tech-stack
We hold full ownership over the tech stack on each project we work on. Since we are constantly looking for new ways to improve development and CI / CD processes, you will have an impact on the selection of new technologies.
3. Flexible working schedule
You can shape your working schedule according to your life, hobbies, and interests. No questions asked as long as the job is done. The only fixed meeting in the day is the daily meeting with the client (usually in the mid-morning).
4. Remote work
Even though we have office in Zagreb (HUB385, Petračićeva 6), we are a remote-first company.
5. Professional development
Want to learn new skills? We've got you covered. On monthly basis, we are organizing internal educations in the fields of Development, Design, QA, Product, and Marketing. Apart from that, we make sure you have access to any online course or book that you need.
6. SPECKtacular company culture
We respect one another enough to give and receive honest feedback. But we also know that the most valuable feedbacks are spoken through empathy which is why we nurture the culture of inclusivity and teamwork.
7. Slick equipment
MacBooks, monitors, headphones, magic mouses, and wireless keyboards - whatever you need to be at your best. In case you will be needing anything else, we are happy to hear your requests!
What do we expect from you?
3+ years of experience in the role of React Native Developer

Good knowledge of React Native and Javascript

Knowledge of versioning tools (Git or some other)

Knowledge of state management libraries (e.g. Redux)

Knowledge of app test frameworks (e.g. Appium)

Knowledge of app build pipelines (e.g. Jenkins)

Very good organizational skills

Good knowledge of English language
Bonus points for:
Native mobile development (e.g. Swift, Objective-C, Kotlin, Java)

Knowledge of German language

Leadership experience
What will be your responsibilities?
Developing and maintaining highly reusable and decoupled mobile components as part of an agile software development team

Developing new React Native modules (mostly Javascript only)

Creating prototypes for new features and innovative ideas

Integration of native modules

Writing and maintaining app integration tests

Developing a highly customizable and scalable app framework

Maintenance of the app build pipeline

Maintenance of the technical documentation
In case you have the skills and knowledge mentioned above, don't hesitate - send us your CV and we will get back to you! :)
If you have any questions about this position, shoot us a message at hello@speck.agency.